Secret Santa exchanges are one of my favorite Christmas activities, as there's just something wonderfully fun about shopping for a fellow book lover! I took part in two bookish exchanges this past holiday, and wanted to share what I received.
The exchange hosted by The Broke & the Bookish is one of my favorites! Can you believe it's been six years already? Wow!
I was good and actually waited until Christmas morning to open my goodies!
The Order of Deacons trilogy by Philippa Ballantine, a cool bookmark, teabags, and the Mistborn trilogy by Brandon Sanderson. I had the first book of The Order of Deacons on my wishlist, so Lynette was nice enough to send me the trilogy in one volume! And I had asked for something from their favorite author or their favorite book, so was happy to see the Sanderson books! I've never read him, so excited to jump right in! And I've been warned that the books are addicting!
***
I also took part in a Facebook exchange hosted by Michelle from the
True Book Addict
. This is the second year that Michelle has hosted the exchange and I love that it's a fun, low-key exchange!
I tried to save the wrapping paper as it's an awesome book print!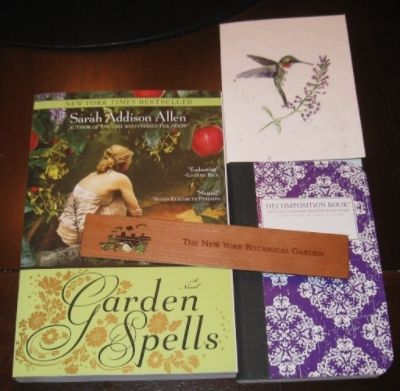 Garden Spells was on my wishlist, and Samantha was nice enough to include a cool bookmark and blank book. I collect both, so thank you! And the coolest part is that the greeting card will grow wildflowers when planted!
Excited to start reading my new books, and already looking forward to next year's exchange!