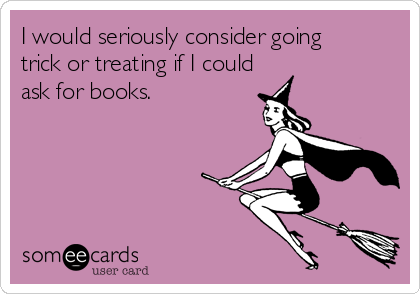 Happy Halloween!
In need of a new way to showcase titles, I decided that My Book Haul seems like a good fit. I like giving books a little special attention as sometimes it can be awhile before I'm able to review them. Sad to say, but some get put on the shelf and gather a little dust before I'm able to give them the love they deserve. I've included links to Goodreads if you want more information.
For Review:
Jennifer Estep's Elemental Assassin is one of my favorite series, so I couldn't resist requesting a review copy from Edelweiss when I received their latest email. Can't wait to see what adventures Gin and her friends get up to next!
Which is stronger: blood ties or a battle-tested friendship?
***
The premise of this one was too good to pass up, so I broke my own rule and signed up for a new book tour. I've read one other book by Brom and it was amazing, so have high hopes for this one!
Krampus
by
Brom
Brom's new dark fantasy book featuring Krampus, the Christmas Devil! A mysterious, sinister, dark fantasy epic that everyone will be obsessing about at Christmas.
NetGalley:
Dean Koontz is one of my go-to, must-buy authors, so I was surprised to see his newest book on NetGalley! Very happy that my request was approved, as I love his work!
Ashley Bell
by Dean Koontz
THE MUST-READ THRILLER OF THE YEAR: Featuring the most exhilarating heroine in memory and a sophisticated, endlessly ingenious, brilliantly paced narrative through dark territory and deep mystery, this is a new milestone in literary suspense and a major new breakout book from the long acclaimed master.
Purchased:
Dakota Cassidy writes fast, fun reads, so I was excited when her latest newsletter mentioned that this one was a free download for my nook! The free ebooks are usually for kindles only, so yay for showing some nooklove!
Witched at Birth
by Dakota Cassidy

A small town, a parole officer, and the blazing Texas heat, all wrapped up in a laugh-out-loud romantic comedy from national bestselling author, Dakota Cassidy. Paris, Texas will never be the same after not-so-good witch Winnie serves out her parole with determination…determination to get out of this small town and back to the 'real world'.
***
When I purchased the
Pride & Prejudice bookmarks
from the
Castle on the Hill
Etsy shop, I also picked up these adorable postcards! Love these vintage French ladies! The artist was nice enough to include a cute mini-bookmark and a bonus postcard with my order. Plan on framing these, but haven't made up my mind yet if I should use individual frames or make it some kind of collage.
What did you receive this week?