Welcome to Cat Thursday, hosted by Michelle at
The True Book Addict
! Cat Thursday is a way to share fun pictures, tidbits, and news of all things cat related!
It's been awhile since I took part in Cat Thursday. When I lost my Didi, it hurt too much so I stopped participating. While I'll never stop missing Didi and Salem, I recently decided to foster some kittens to help out one of the local shelters.
Michelle graciously invited me to start participating again, so I am going to share my fostering adventures. Aren't they adorable?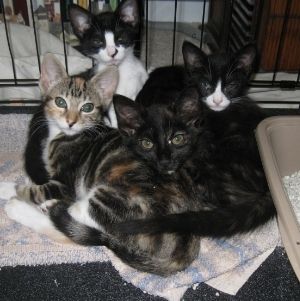 hello kitties!
I really love this picture, so think it will become their "official" portrait!
I've never raised kittens before, so wish me luck!