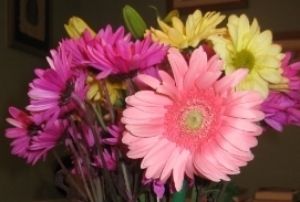 In the tradition of procrastinators everywhere,
I'm late to my own party.
For the longest time I thought that my blogoversary was in April. It was only after I started to update my old posts that I realized that I didn't publish my first post until May 25, 2009. In fact, I published five posts that day! What was I thinking?
Not sure why I thought it was in April. Probably got it mixed up with when I started on Twitter. And my wedding anniversary is in April, so there's that. Anyway....
Now it's June. I'm a month late to my own blogoversary.
Did I mention that I'm a terrible procrastinator?
How on Earth have I lasted six years?
Anyone who knows me knows that I'm easily bored and switch hobbies like my grandmother used to switch purses! Yet here I am, six years and one month later, still blogging along.
Who woulda thought?
But I digress. On to the celebration!
When I was in grade school, we used to bring cupcakes to class to celebrate birthdays. As much as I love cupcakes, they would be kind of messy to mail so guess you'll have to settle for books. We all love books, right? Right!
So I'm going to share some books with you, my book tribe, to celebrate the fact that I've yet to run away screaming from the wild, wonderful world of blogging!
What kind of books? Well, that's a surprise! It will be a mix of ARCs, hardcovers, and paperbacks. Maybe some swag. As much as I can fit into one of those medium flat rate boxes from the post office.
Not in the US? No worries, as the Book Depository ships almost anywhere in the world these days!
The Prizes:
1 US winner will receive a box of books, some new & some gently read, a mix of hardcover and soft
1 International winner will receive an item of their choice from the Book Depository, up to $10 US
Contest ends July 1, 2015
I may decide to ship a surprise to a 2nd place winner. Or not.
My party, my rules.
Enter below:
*Contest ends July 1, 2015 at 11:59PM EST
*Must be 18 or over to win
*Checking the International box confirms the Book Depository ships to your address
*International Prize value up to $10 US
*US Prize at my discretion
*Winners will be chosen via random.org, notified via email, and have 72 hours to respond