Parajunkee
is hosting a Better Blogging Challenge again this year. She hosted something similar for 2014 and I had fun taking part, so thought I'd try it again this year! I like that the challenge is pretty flexible and you're not locked into doing every single task.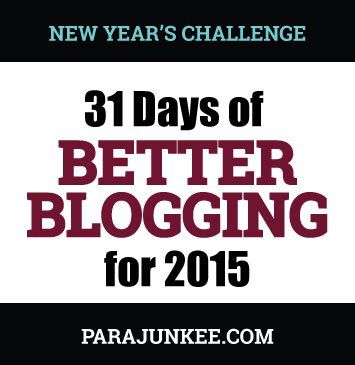 Day 2: Time for Spring Cleaning
Today's task is to do a bit of spring cleaning on your blog. Look at your sidebars and remove anything extra that you don't need, remove widgets and plugins that are taking up space.
Sidebars
There weren't too many things on my sidebars that needed updating, but I did remove my old challenges and replace them with this year's model. I also removed some tour badges for partners I no longer work with. For some reason, I can't get my Page tabs back, so need to work on a solution as I'd rather have them across the top than on the side.
Anything in particular you'd like to see?
Blogroll
I updated my blogroll to add some new blogs I started following, but left most of the old favorites. I usually use Bloglovin' to visit blogs, but this gives me a heads up if someone has posted something new. Thinking about rotating the blogs I list, but not sure how so will keep this idea on the backburner for now.
Links
This will be a work in progress, as apparently there are an awful lot of broken links on my blog. I used
Dead Link Checker
, but there are quite a few out there.