Parajunkee
is hosting a Better Blogging Challenge again this year. She hosted something similar for 2014 and I had fun taking part, so thought I'd try it again this year! I like that the challenge is pretty flexible and you're not locked into doing every single task.
Fell behind because of the flu, so still playing catch-up!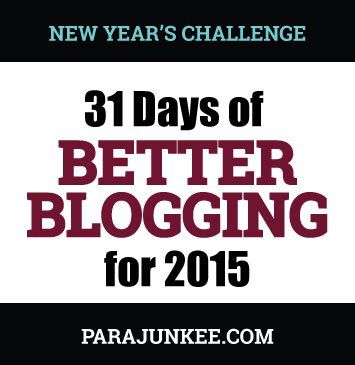 Day 23: Pros and cons of blogging
Your task today is to write your pros & cons of blogging.
This seems like a pretty simple task on the surface, so I went with my first impressions instead of tormenting myself over the "correct" answers.
Pros
Receiving ARCs
Discovering new authors/titles
Interacting with fellow booklovers
Making new friends all over the world
Receiving comments on posts, showing that someone has actually read them!
Ability to attend BEA
Cons
Too many non-relevant email review requests
Pushy authors who won't take no for an answer
Having to read certain books instead of what I want to read
No comments on a post I struggled with. Did anyone even see it?
Pressure to read faster
Is very time consuming
Still feeling like a blogger newbie after 5+ years

I'm sure I'll think of other pro & cons later, but these were the first that came to mind. For me, the pros outweigh the cons more often than not. And I think I've gotten over most of the blogger envy I used to struggle with, so that's something.
Day 25: Blog Schedule
Your task today is to set a blog schedule.
I try to schedule posts in advance so I'm not scrambling around at the last minute, but usually fall behind after having a couple of posts under my belt. Darn procrastination gene!
I've been looking for a new meme to take part in, so that would help with scheduling. And I like Rachel's idea of having 3 posts ready and waiting, but want to aim for at least six so I have a nice cushion.
Day 27: Target Audience
Your task today is to figure out your target audience.
Since I've never done a reader survey where I've asked personal information, I went to various tracking sites to try to figure out my demographics.
I don't want to install anything on my blog that I'd consider an invasion of privacy, so don't know the ages or gender of my readers. All the sites do agree that the majority of my audience is based in the US and come directly to my site instead of being referred by social media or another blog.
Not sure how I can expand my reach internationally, but guess I need to work on my social media accounts. I've started paying more attention to my
Facebook page
and recently signed up for
Tsu

.
Twitter is a total time-suck for me so I'm not on very often, and I've never really gotten the hang of Google+. *sigh*