Parajunkee
is hosting a Better Blogging Challenge again this year. She hosted something similar for 2014 and I had fun taking part, so thought I'd try it again this year! I like that the challenge is pretty flexible and you're not locked into doing every single task.
Still playing catch-up after a wicked bout of the flu!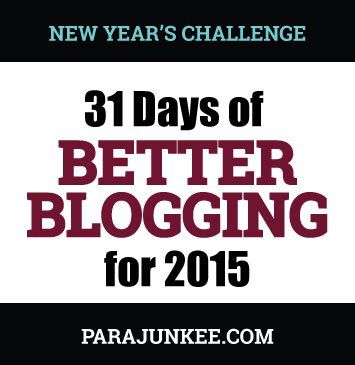 Day 18: Social Network...Go!
Your task today is to check out a new social network.
Rachel lists four new social network sites that she thinks are worth checking out: Tsu, Medium, Learnist, and Secret.
The only one of these that I've heard of is Tsu, but only because I followed Kevin Hearne there. I followed him from Facebook to Google+ to Tsu. Hope he settles down soon and picks a social media platform, as I'm exhausted! ha!
I like the looks of Tsu because it's pretty intuitive and reminds me of Facebook. I've found a handful of authors and book bloggers there, but haven't explored it in depth yet. If you want to join, here's
my link
.
Day 19: Change It Up
Your task today is to change something in your blogging routine.

While schedules and routine can be good, changing things up a bit can stimulate creativity and freshen things up.

I'm not ready to change my blog design, but am thinking about taking part in a new meme. Just have to find one I really like, so am open to suggestions!

Also like Rachel's suggestion about changing the time we post. I usually schedule my posts for the morning, but maybe I'll try posting them in the evenings instead when more people are home and online.


Day 22: Check Under the SEO Hood
Your task today is to check how well your SEO is doing.

Have to admit that I'm not 100% sure what SEO is exactly, so need to read a few tutorials. I know that I have several dead links that I need to deal with, but not sure where to go from there.

Rachel does suggest having unique post titles, but most of my posts are reviews so not a whole lot I can do to jazz those up. I follow a few blogs that create eye-catching titles, but you wouldn't know that they were reviews until you clicked. I like full transparency and to call a review a review, but it's certainly something to think about....