Parajunkee
is hosting a Better Blogging Challenge again this year. She hosted something similar for 2014 and I had fun taking part, so thought I'd try it again this year! I like that the challenge is pretty flexible and you're not locked into doing every single task.
Still playing catch-up after a bad bout of the flu....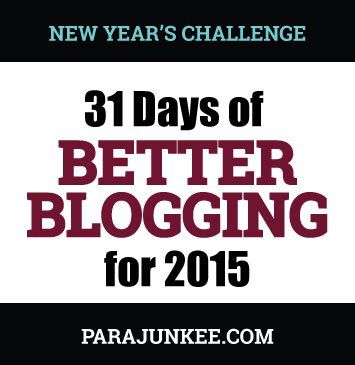 Day 14: Competitors
Your task today is to narrow down a list of competitors. Take note of who you think of as "competition" and follow and pay attention to what they do.

Glad that Rachel made this a challenge, as she clarifies what she means by "competition." While none of us are really competing against each other with our blogs, she points out that there is some competition for blog tours, ARCs, author interviews, and so on. Since I more or less wait for email invitations and don't solicit anything from authors/publishers, I guess I've taken myself out of the competition.

But, based on her parameters, I'd prefer to think of them as role models or inspiration. Once you find someone with similar reading tastes and blog stats, then see if they can inspire you to do better. Maybe they have features that might work on your blog? Which content has the most comments and shares? Do they use social media differently? Who are they following that you haven't discovered yet?

I like her idea of finding similar-to-you blogs and using them for inspiration. I also use the so-called "Big Fish" blogs as inspiration. I'm still not comfortable with asking someone to guest post on my blog because I don't want to impose, but that's my issue and I know I need to get over it. Think I'll think more on this challenge and maybe implement some of her suggestions down the road.


Day 16: The Buddy List
Your task today is to create a blogger buddy list.

I sorta-kinda have a buddy list. I have the blog roll on my blog, plus have different groups set up on Bloglovin and Twitter that I try to check most often. I don't mind leaving comments and connecting on Facebook, Tsu, or Twitter, but am too shy to take it beyond that.


Day 17: Goals & Missions
Your task today is to get a firm grip on your blogger goals and mission. Do you have them? If not - get on that…
No mission statement for me, but I do have some blog goals. To remind myself, I made a
permanent page
on my blog with daily tasks as well as long-ranging goals.
One of my unwritten goals is to grow my blog and interact with my readers on a more consistent basis. I'd also love to attend BEA this year, but that's more a physical goal as I need to build up the strength in my knee. Wish me luck!