Parajunkee
is hosting a Better Blogging Challenge again this year. She hosted something similar for 2014 and I had fun taking part, so thought I'd try it again this year! I like that the challenge is pretty flexible and you're not locked into doing every single task.
I was hit pretty hard by the flu earlier this month, so am playing catch-up!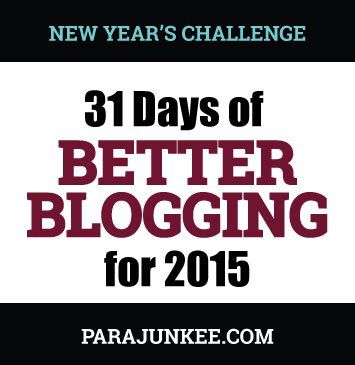 Day 10: Email Signatures
Your task today is to revamp your email signature.

Have to say that I'm happy with my email signature as is. I have my two blog names, with links, right under my name. I'm hesitant to add my Twitter name since I'm rarely on Twitter, but maybe I should add my Facebook page address? What do you think about adding a description, like "Reader. Reviewer. Blogger." in there too? I just don't want to clutter up my signature too much or be annoying.


Day 12: Menu System
Your task today is to inspect your menu system. Is there something on there that really doesn't need to be? Is there something that is missing?

Aside from not being able to figure out why I can't get my menu back under the header, I think it's okay. I've got pages for Home, About Me, My Review Policy, Challenges, My TBR Pile, Blog Goals, and Contact Me. Anything else I should add?


Day 13: New To You Blogs
Your task today is to find five new to you blogs and leave them a comment.
This was made easy by Parajunkee including a
linky
in her post where you could leave your blog name and link. I visited several new-to-me blogs and found way more than five to follow! Fingers crossed that I've found some new blog buddies!