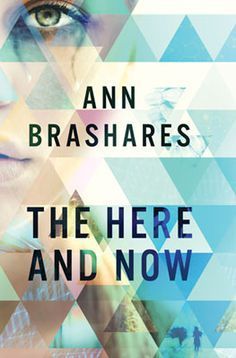 The Here and Now
by Ann Brashares
eARC received via NetGalley in exchange for an honest review
An unforgettable epic romantic thriller about a girl from the future who might be able to save the world . . . if she lets go of the one thing she's found to hold on to.
Follow the rules. Remember what happened. Never fall in love.
This is the story of seventeen-year-old Prenna James, who immigrated to New York when she was twelve. Except Prenna didn't come from a different country. She came from a different time - a future where a mosquito-borne illness has mutated into a pandemic, killing millions and leaving the world in ruins.
Prenna and the others who escaped to the present day must follow a strict set of rules: never reveal where they're from, never interfere with history, and never, ever be intimate with anyone outside their community. Prenna does as she's told, believing she can help prevent the plague that will one day ravage the earth.
But everything changes when Prenna falls for Ethan Jarves. (Goodreads)
My Thoughts:
At less than 200 pages, this was a quick read for me. While I enjoyed the story, I would have liked more information about the future, devastated world Preena came from.
The story seemed a little light on details at times, when I would have liked in-depth descriptions of certain people, places, or events. Because of its short length, some of the secondary characters weren't fully developed. There were also a few situations I found a little unbelievable and in need of more explanation.
Preena has no special powers or abilities, which is a nice change from so many of the YA heroines out there. While she is supposed to be highly intelligent, she's also a typical teenager who chafes against the strict rules of her community.
Ethan makes a good love interest, and I appreciated that there was no insta-love. While she doesn't understand his initial interest in her, we do. I really liked that they were friends first, as that seems rare in YA nowadays.
There were a few plot points that didn't make sense to me (such as the future plague), and it annoyed me when so many of the adults reprimanded Preena by calling her stupid. I thought she was supposed to be super-smart? While she didn't always act intelligent, she did act like a teenage girl so give her a break!
While a little thin in places, I think this would make a good beach read.