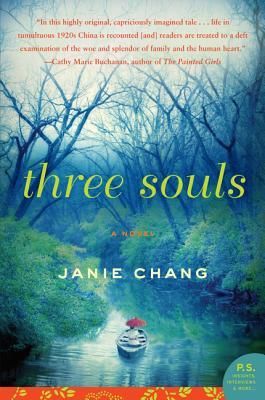 Three Souls
by Janie Chang
We have three souls, or so I'd been told. But only in death could I confirm this ... So begins the haunting and captivating tale, set in 1935 China, of the ghost of a young woman named Leiyin, who watches her own funeral from above and wonders why she is being denied entry to the afterlife. Beside her are three souls - stern and scholarly yang; impulsive, romantic yin; and wise, shining hun - who will guide her toward understanding. She must, they tell her, make amends. (Goodreads)
My Thoughts:
This is one of those books that I wasn't sure I'd like, but wound up loving! I don't think I've ever read a book set in China before, so this was a totally new experience for me. Add in the 1930's setting, which I usually don't care for, and this one is totally outside my usual comfort zone! But the author made it an easy read and I was never confused about what was happening because she explained everything seamlessly, without getting in the way of the story. Very impressive!
We first meet Leiyin on the day of her funeral. Unsure of why she hasn't yet ascended to the afterlife, her three souls explain that she was responsible for a great wrong during her life. In order to journey to the afterlife, she needs to remember what happened and then make things right.
We journey with Leiyin down memory lane, and the journey isn't always pleasant as she was a bit of a sheltered, spoiled little rich girl. Thinking only of herself, she suffers the consequences of her actions. Was her "punishment" a little harsh? I think so, but she certainly could have handled things better and taken the opportunity to pull up her big girl panties and grow up!
While Leiyin isn't the nicest person, I could relate to her situation and she had my sympathy. I enjoyed getting to know several of the other characters as well, especially her sisters and stepmother.
This story is beautifully written, and I'm astounded that it's the author's first book! She's incredibly talented, and I'm doubly impressed that she hooked me so thoroughly with something so far outside of my usual genres! Interesting characters, a smooth flowing plot, and an introduction to a foreign land to boot. Definitely a must read!
Review copy received from the publisher in exchange for an honest review