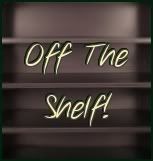 I know, I know....I've signed up for yet another challenge after bemoaning my failure to finish so many in 2010. But it's not my fault! Thanks to GMR over at
Satisfaction for Insatiable Readers
, I now know that I suffer from "
challenge-acceptitis
"...which is the inability to decline a reading challenge that sounds even remotely good. It's a compulsion and I can't help myself! There is no known cure, so what's a girl to do but sign up for yet more challenges? *L*
But this one is too good to pass up....because it will help me read some of those books in my massive TBR piles! I have two entire bookshelves of unread books, and my dining room table is overflowing as well. So many books, so little time.....
The challenge is hosted by
Bookish Ardour
and begins on the 1st of January and ends on the 31st of December 2011.
Note: This challenge is to read books you already own but have never gotten around to reading. If you don't have many that you own, but have a massive TBR wishlist, you're welcome to read those as long as you don't add new books to the list. You don't need to actually get rid of your books after you've read them, this is just to read them.
How To Participate
Decide which challenge level you'll be doing (further below) - do not include books that you buy after the start of this challenge.
Grab the code for the badge and post it on a side bar or in a signature (if you want to participate, but aren't blogging, on a social network or forum - Submission For Non Bloggers).
Create your own post to let all your readers know you're taking part in the challenge and at what level (if you're really proficient you can list your books!). Make sure to link back to the host's page with either one of the buttons or a text link.
Use the provided link form to enter into the challenge by sharing your challenge post url and your name (either your name, blog name, or both). Please don't use the comment form to participate, only to comment on the challenge or something else.
Submit your reviews (if you choose to review them, but that is optional) on the review page.
When you've completed your challenge, let everyone know on the completion post. If you're using a tag or category, it's recommended sharing the link back to that so everyone can find them.
Challenge Levels
Tempted– Choose 5 books to read
Trying – Choose 15 books to read

Making A Dent – Choose 30 books to read

On A Roll – Choose 50 books to read
Flying Off – Choose 75 books to read
For extra hard challenges
Hoarder – Choose 76-125 books to read
Buried – Choose 126-200 books to read
I'm determined to break 100 books read in 2011, so think that the Making A Dent level would probably be the best one for me. That's a goal of reading 30 books I already own, leaving me the option of 70 new or library titles.
Wish me luck! And if you see any other challenges out there you think I might be interested in...
please don't tell me!!!
1. hush, hush
2. Forest of Hands and Teeth
3. Youngest Templar 3
4. Kitchen Confidential
5. Married With Zombies
6. Matched
7. Delirium